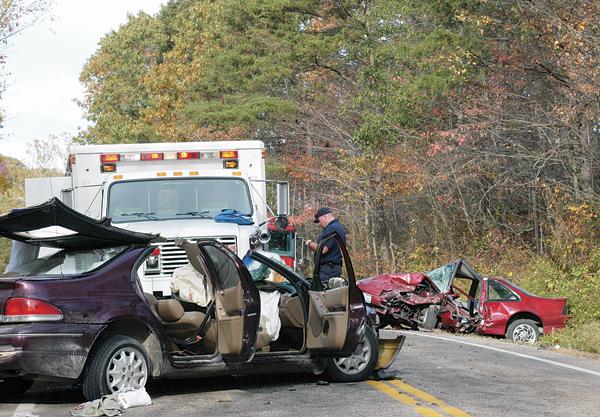 I did not know Carol Guess, I only knew "of" her — but from what I gathered by attending her funeral, she could not have been a nicer person.  For those who don't live in the Columbus area, or get the Columbus dispatch, Carol Guess lost her life on Monday, October 13 in a terrible car accident.  Carol was my girlfriend's Aunt.
It's sad to see that the reports in newspapers are calling this an accident.  Sure, two cars collided but the real tragedy is that it did not have to happen.   According to news sources, the driver of the Dodge Cirrus that ran into Carol's Beretta was breaking the law, in more ways than one.  Firstly, the 16 year old driver was breaking Ohio law by carring 4 other passengers.  In Ohio, if you are 16, it is illegal to carry more than one passenger who is not a direct family member.  Secondly, the driver of the Cirrus was passing a slower vehicle on a double yellow line, going up a hill.  As you can see, this is not a DUI story, it's not a story of a lapse in judgement.  It's a story of some teenagers who will truly never know the gravity of how they have affected the lives of others in a negative fashion.
Attending the services, I almost wished that I had a video camera there.  Carol is survived by her mother and I truly believe that if the driver of the other car could have seen the devastation that comes when a parent is forced to bury their child, she may truly understand the gravity and severity of her actions.  Of course, such a video does not exist and I can only hope, for her own sake, that she grows to understand and learn from this experience.
Unfortunately, her "lesson" comes at the expense of an innocent life.  If you are reading this post, please, internalize this.  Hold in your heart and head the reality that your actions directly influence the lives of others even in matters where you don't believe that they do.  Rest in peace, Carol Guess.
For more information, refer to the links, below: