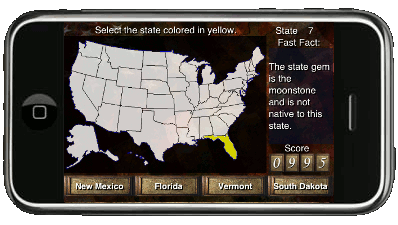 Browsing through the app store today, I noticed that one of my co-workers (Gary Gentry) had released a pretty cool game for the iPhone.  Aimed at "educational fun" – this States and Capitals game quizzes you on your knowledge of our country's geography.
Once the game begins, you're prompted with a map of the U.S., complete with a state that is hilighted in yellow.  While the timer ticks, you pick the state name as quickly as possible and are then forwarded to a screen where you are prompted for the capital of the state.
It's a great way to quiz yourself to see if you are really smarter than a fifth grader, or an invaluable tool for helping your children learn about the states and capitals in our country.  As an added bonus, the application gives you cool little fun facts for each state.  Very stable and fun, I'd recommend this app to anyone.
You can go directly to the download through iTunes by clicking here, or visit Gary's webpage by clicking here.