So everything about this launch ofthe iPad 2 has been a little "hanky" for Apple.  First, the keynote occured on a Wednesday (usually, product launches are Tuesdays or Thursdays from what I can recall).  Secondly, there is effectively no pre-order.  I purchased the new iMac, the 17″ MacBook Pro in 2009, the last three generations of iPod, and every iPhone released.  With the exception of the initial iPhone – everything has had a pre-order.
Now comes the biggest change.  The launch date and time.  It's no suprise to anyone that the launch date for the new iPad is March 11, 2011.   The interesting thing is that I have already heard of tons of people who plan to wait in line overnight to buy the iPad 2 as soon as the stores open in the morning.  What's the problem with this?  Well – if you read Apple's "How to Buy Page" (click here, or it's pictured below) – you will see that the stores will not start selling them until 5PM.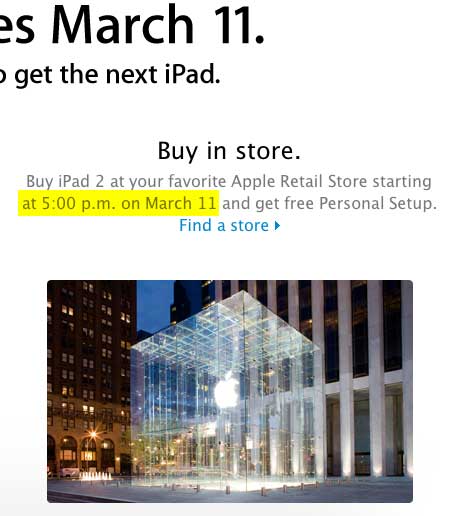 What?
How many people do you estimate will actually show up at the stores bright and early and wait in line overnight only to find out that they can't get the iPad 2 until after 5PM?