As I have mentioned on this blog more times than I care to remember, I'm a bit of a geek. I love tech, love making tech work well, and love integrating tech into anything where tech can be integrated. One of the places I have decided to integrate as much tech as possible is in my home. This is not unique, most homes nowdays are getting exceedingly complex, simply because the range of "cool" devices for the home is growing. In fact, home networks are sometimes as complex as a small business or small corporate networks.
Unfortunately for most people, integrating tech into their home means huge expense, because the only choices are to buy (more expensive and generally poor performing) wireless devices, or to retrofit a finished home with wiring to support the necessary infrastructure. Retrofit usually means tearing apart walls, rebuilding walls, and trying to snake cables through existing walls.
Knowing the pain that this causes, when I was building my house 8 years ago, I wanted to run tons of wire to support anything that I could dream up. Technology 8 years ago wasn't anywhere near where it is today – but I knew it would get there, and I knew awesome hardware would only come down in price.
For starters, I wanted multiple three way jacks in every room of the house – each containing two pieces of CAT-5e (For phone and gigabit ethernet, or dual gigabit ethernet) and a piece of quad-shield RG6 (for cable TV). I also wanted to run speaker wire in the living room for surround sound, and speaker wire into all of the bedrooms and the ceilings of the bathrooms. Additionally, I wanted to install my own alarm system – I didn't want the cookie cutter piece of crap my homebuilder offered – I wanted an alarm with the features I wanted, the sensors I wanted, and wanted it all installed the way I wanted it installed and where I wanted it installed. Finally, I wanted to run some power wire and RG-6 to several points on the outside of the house so that I could easily install a surveillance system. At the time, that seemed nutty – but today they are so reasonably priced, I'm glad I ran the wire long ago.
Keep in mind, I decided to build this house when I was 26 years old. I knew that I wouldn't be able to afford everything right away – but, wire is relatively cheap. Wiring a newbuilt home is especially affordable when you can run it yourself before the drywall is installed and pay your friends to help with a couple of cases of bud light =).
So… I bought almost two miles of wire. More quad shield RG-6, CAT-5e, Speaker Wire, Power Wire, and other miscellaneous wire than you could possibly imagine. Enough wire that it took me two trips in my 1993 Eagle Talon hatchback (with the seats DOWN, mind you) to get it out to my house. Now, if you saw my house – you'd wonder where in the hell all this wire was going to go. I live in a modestly sized home (1700-ish square feet) on a slab. It took an entire weekend – but I ran nearly all of that wire – even to places I didn't know if I would ever need it.
Flash forward 8 years to today. Nearly every wire has been properly terminated and is active and available for use. I use business class networking gear and firewall and have a 50 megabit internet connection. My surveillance system is active and can be monitored even when away from home. The alarm is exactly the way I wanted it, my home entertainment center is modest but all of the wires are hidden, and all of the rooms upstairs have volume controls and in-wall or in-ceiling speakers.
So – it's done? No way. "Done" is not in my DNA. I continually upgrade and replace hardware, and sell my old goods on eBay to keep the tech fresh in my house. As my network has grown and gotten faster, it's reach has gotten further (external devices remote from my home), and it has gotten more complex – I decided it was time to start monitoring it.
This is especially more important to me now that some internet service providers are starting to monitor their users and apply caps. My ISP is not one of those, but it really has myself asking "how much bandwidth do I use?". Most of my services in my house (netflix, xbox live, vonage, etc) all consume bandwidth just to operate – and to me, these are very much all "black box devices" and I have no idea what they are using. So I have decided to start a series of articles describing the answers to this very question. So to start off, I wanted to describe my home network and how I'll be monitoring it with an awesome piece of software provided to me from Paessler called PRTG Network Monitor.
So – below you will find a diagram of the majority of the devices in my home – not everything is on this particular diagram, but the most important bits are: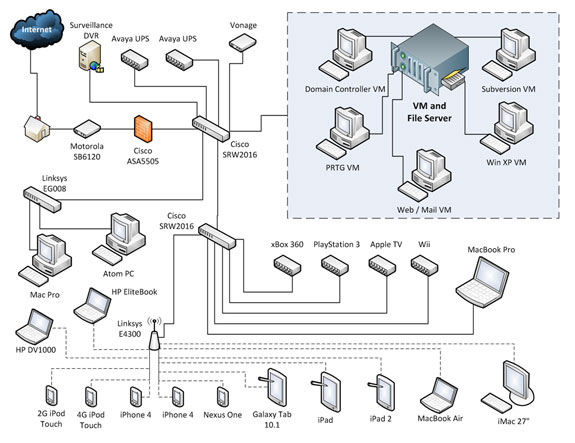 Crazy eh? Yeah – I didn't realize how much crap I had until I set out on this trek to start monitoring everything.
So, from the outside world, my home is connected to the internet via a 50 megabit cable connection through a Motorola DOCSIS 3 cable modem.
This connection offers a pretty stable 50 megabits downstream and 5 megabits upstream – more than enough to supply my media devices with the media they need, allow me to VPN into my network to use my resources or monitor surveillance from remote if needed, and provide some extra speed so that surfing the web doesn't slow to a crawl just because I'm watching netflix.
The motorola cable modem meets my home by way of a Cisco ASA 5505 firewall appliance
. From here, access is split through the house via two Gigabit Cisco SRW2016 business class switches
– one in the computer room, and another downstairs.
All of the desktop and laptop computers in my house are really focused on performance – they all have SSDs for their boot drives, and on laptops – this is the only drive. They have a minimum of 8GB of RAM, and powerful processors. Since space comes at a premium on SSDs – none of my laptops and desktops contain anything more than temporary data.
So where is all of the data? It's on the server. The main machine that is the centerpiece of the home is a dual quad core Nehalem Xeon server with 4TB of RAID5 disk space, 24GB of RAM, and dual gigabit ethernet adapters. This contains a basic O/S install that houses a few fileshares and a copy of VMWare server. VMWare runs five seperate Virtual machines – a Domain Controller, a Subversion Server, a Web/Email Server (internal only – used for development testing), a generic Windows XP Snapshot VM that I use whenever I want to "test" a piece of software and then revert to a clean image, and a newly added PRTG Network monitor machine.
The rest of the devices in the home are either wired or wireless, but are mostly either network appliances or network connected media devices, printers, or other simple systems.
So – that is a quick introduction to what is going on in my world. This network started with a single domain controller and two laptops and over the years has evolved into this behemoth. This network not only keeps me entertained at home, it also supports my livelihood. Being a professional developer by trade, this network often serves as an important test bed for products or technologies that I am working on.
As you can see, without a proper monitoring solution – outages or breaks in my network can be as hard to find in my home as they would be in a small corporate network. Keep in mind that networks like mine are becoming more and more commonplace in homes as even the most mundane devices are given wireless network access.
Over the next several months, I am going to be posting several articles ranging from the installation and configuration of PRTG Network Monitor (in my experience, the best network monitoring product you can find, bar none), to real world findings as I continually monitor the network I just described. Specifically, I am interested to see exactly how much data I use over a month, a quarter, and a year with devices like AppleTV, XBox, Vonage, etc. It is by monitoring my usage that I hope to put some sense behind the bandwidth caps that some ISPs are enforcing nowdays.
Now – keep in mind, I don't torrent, I don't host a website or e-mail server in my home, etc. Regardless of how crazy my network configuration seems – my usage model is pretty standard. I'm hoping that my real world results will equate similarly with that of many of my readers, and I hope you will find it interesting. Cant wait to share again once I've collected a year or so of data.